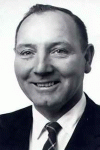 Walter Benger
Mayor: 1974-1982
While not technically the first Mayor of the newly incorporated Town of Eastport, Benger was elected Mayor after the Towns first Mayor, stepped down after less than two months in office. Benger was re-elected in 1977 and served until 1982.
Born in Amherst Cove in 1923, the youngest of three sons born to Albert E. [1882-1937] and Jessie Ann [1886-1934] (daughter of Eli & Mary Jane Cole). Like many Newfoundlanders, before and since, Walter headed for Canada in search of employment and as a young man, was employed for awhile in Halifax before returning to Newfoundland c. 1945. After a short stint as a Cook with Bowaters, and Walter decided to try his fortunes in the growing Town of Gander.
He secured a position with the British Overseas Airways Corporation (BOAC), and his managerial skills were quickly recognized by the local business community, and he was engaged by both Goodyears and then Eaton's.
He later joined The Allied group of companies, where he spent many successful years, before becoming an independent Sales Agent for several major companies. His genuine interest in people, his always pleasant demeanor and his seemingly endless energy ensured that he would excel in this new challenge.
With a growing family, the need for a place of their own became the couples main priority and the construction of a new dwelling in Eastport was a mutual effort, with Bernice and Walter working side by side to complete their new home, which still stands at 77 Church St.
Always the entrepreneur, Walter built a small Variety Dry Good store in front of the Benger homestead. This building would undergo numerous changes over the coming years, and for a time served as the areas premier Hang-Out. And it was as the Hang Out that it would go down
in local history one Sunday afternoon, as the site of Eastports first and only streakers. When the local meat market was offered for sale, Walter was quick to recognize the potential, and under his ownership and management the business thrived for a number of years until a daring
robbery devastated the enterprise.
In later years, Walter continued to pursue his retirement with the vigor of a man half his age. He built a boat, which he continued to enjoy right up until his death on November 8, 2000. He will be remembered for his pleasant personality, his perseverance and his many contributions to this region, including being a Charter Lion. His wife wife Bernice, predeceased him on Feb 8, 1989.
SOURCES: Annie Turner, Happy Adventure – Sister in Law Sheila Halfyard, Eastport – Daughter Bonavista Burials 1899-1973: Jessie Ann Benger Aug 26, 1934; age 47 – Albert E Benger Jan 11, 1937; age 54
SIBLINGS: THOMAS – 1 son Harold; Windsor, NL HAROLD – 1 daughter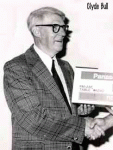 Clyde Bull
Only son, and eldest child, of Harold and Rhoda Bull, he and sisters Elizabeth & Beatrice attended school in the building that now serves as The Beaches Heritage Center. At age 13 he began spending his summers fishing on the Labrador aboard the Bull family schooner, Magic, and his winters at school, graduating with a High School Diploma and a course in Bookkeeping.
In 1939 he married Lydia Oldford, daughter of Sarah and Alphaeus Oldford, of Burnside and began a family that would eventually include two daughters, two grandsons, one granddaughter and ten great-grandchildren.
During the Second World War, he worked as a carpenter at the Gander Air Base. From Gander, he was hired as a Scaler for the A.N.D Company and continued with them (even after the Company was absorbed by Abitibi-Price) until his retirement in 1972. During the late 1940s, Clyde and Lydia were one of ten families who decided to form the Atomic Buyers Club, the forerunner of today's Eastport Co-Operative Society. The club operated out of a small store in Clyde's backyard and was affectionately known as 'The Grub Store'. The original building is currently Tom Hallett's shed. When the current Co-Operative Building opened, Clyde and original Buyers Club co-founder Abner Penny, proudly cut the ribbon.
In the early 1950s, Clyde, along with Bert and Chesley Bull and Joseph Hobbs, bought their own generator and were among the first in Eastport to have electricity. The generator would run from dusk until 11:00 pm daily, except on Mondays when it was turned on to accommodate electric washing machines. Clyde would also be one of the first to have running water, using a pump to bring it from Burton's Pond.
In 1963 he was elected to Council, and served one term that oversaw the implementation of the Agricultural Rural Development program that would become a springboard for much of Eastport's recent heritage.
He was an active member of The Church Lads Brigade and Holy Cross Church, and while he never held any official office his contributions were invaluable.
When the Eastport Peninsula Credit Union was formed on August 12, 1985; Clyde and Lydia were the first to open an account. An account still held at the First Coastal Credit Union. Another shining example of Clyde's incredible foresight and progressive thinking. Cylde Bull died on October 21, 1990. His wife Lydia remained active until shortly before her death in 2005.
SOURCES (not already listed): Daughters Elizabeth and Joan Bert & Tamer Bull First Coastal Credit Union Eastport Consumers Co-Op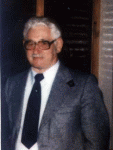 Colin D. Bull
Eastport Community Council Chairman: 1969-1971
Secretary/Clerk: 1963-1966, 1968
First elected in 1961 (2nd Council), Bull was re-elected in 1963, 1965, 1968 and served as Secretary for all 3 terms. In 1969, 1970 and 1971, he was elected Chairman and was instrumental in the formation of the Eastport Peninsula Volunteer Fire Department. In 1972, Bull concluded his distinguished municipal career as a Councillor on the last Community Council elected prior to the Community being designated as a Town.
Born in Salvage, April 2, 1920; the only son of George Baxter [1893-1970] and Anastasia (nee Farwell) [1896-1995], he was barely two years old when the family moved to Eastport. Bull completed the highest level of education available in the two room school at Eastport, and continued his education at the Government Demonstration Farm in Mount Pearl. He entered the Truro Agricultural College in Nova Scotia and returned to the Demonstration farm after successfully completing his studies at that institute. In 1988 he was nominated, and posthumously inducted, to the Atlantic Canada Agricultural Hall of Fame. On April 12, 1950; he married Doris Ralph, of Glovertown and the couple moved to Eastport where they would raise a family of three daughters and two sons.
During the early years, Bull often worked as an accountant at Indian Bay during the winter but his life's interest was agriculture and his first venture was the cultivation of root crops. For many years, he operated a successful poultry operation before turning his interests to hog production. The latter resulting in a sophisticated multiplier hog operation, furnishing pork products in agreement with NL Farm Products. With 5000 piglets being bred annually, the operation also provided quality breeding stock for other farmers and housed 2200 animals at the time of Bulls death in 1988.
Always an ardent supporter of farm organizations, Bull served as a member of the Newfoundland Egg and Hog Marketing Boards, Commissioner of the Farm Credit Appeals Board, Director of the Agricultural Exhibition and member of the local Agricultural Association. But it wasn't only in Agriculture that Bull left an indelible impression.
At age 19 he became Church Warden and would eventually serve on the Parish Council and the Select Vestry. He was actively involved with the Church Lads Brigade (CLB) in both St. Johns and Eastport and was a leader in a wide variety of local organizations including the Cooperative Society, School Board, Rural Development, Recreation Committee, Lions Club, the Interfaith Foundation and the Credit Union.
While Bull's civic accomplishments were many, it is his dedication to education and youth that is perhaps his most lasting legacy. His vision of a centralized school system resulted in Holy Cross becoming the first centralized high school in the province and it has served as a model that has often been repeated but seldom equalled. It was most fitting that a Memorial Scholarship was awarded (1988-1998) to the Holy Cross Graduate who "demonstrated dedication and hard work". Two attributes that served Bull well.
SOURCES: Penn n Paper – May 1988 A People of the Sea and the Soil: Bruce Hynes, Ed.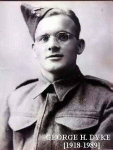 George Hubert Dyke
Regimental #: 970611
Dyke enlisted in the Royal Artillery in early 1940, and was among the First 400 Royal Artillery Contingent which left St. Johns on the Duchess of Richmond, April 14, 1940; and served with the 166th in North Africa and Italy. By all accounts, he was a good soldier and was well
respected by the Officers and Soldiers of the 166th. Shortly after the Italians capitulated in 1944, a lot of the senior members of the 166th were given home leave. George was among that group, and before they could return to England the war had ended.
With the war over, Dyke married Emeline (nee Babstock) and settled at Cormack on the west coast before returning to this area, working (and living) at Terra Nova National Park. He would eventually move to Toronto, where he resided until retiring back to Eastport in the early 1970's. On returning to Eastport he became actively involved with the Royal Canadian Legion and would continue to contribute his time and efforts to that organization until shortly before his death on January 3, 1989.
His only son, Dominic Dyke, was lost in the Ocean Ranger disaster in 1982. Three daughters survive.
SOURCES (not already listed): PENN n PAPER – Jan. 1989 Vol 3; #1 p. 17 RAY BRADLEY; Email Sept 7, 2000 COMRADES IN ARMS by Herb Wells – p. 140 Photo of Roger Battery of the 166th Field Regiment in training. – George is # 22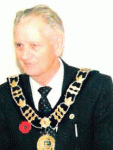 Edwin Moore
Edwin Moore's journey through life began at Dildo, Trinity Bay on May 27, 1919.
At the age of five (5) he contracted Infantile Paralysis, more commonly known as Polio, which left him with a permanent, though slight disability; and an indomitable spirit. On recovering, and struggling through a second year of Grade One, Moore decided that he should be in Grade Two, one night he simply informed his mother that "tomorrow morning I'm starting in Grade two". Next morning found him seated among the second graders and a confused teacher gave way to Moore's infallible logic. The rest as they say, is history.
Moore's high school years were marked by the trials of the Great Depression. High school graduation was a rare achievement but a necessary one if you wished to become a teacher – and Moore was determined to teach. In June 1937, he graduated from Dildo's All Saints School.
In the Fall of 1940, he entered Memorial College and earned a Grade One teaching certificate. His brilliant teaching career, which would encompass the next three and a half decades, began at Diamond Cove (Rose Blanche) in September 1941. The following year he accepted a two-year position at English Harbour, followed by a year at Princeton before returning to Memorial College in the Fall of 1945. By the spring of 1946, Moore had earned a Grade Two teaching certificate and had set his sights on a Principalship.
He spent the summer teaching on Granby
Island before accepting the Principal position at Sop's Arm West, where he would remain for the next nine years. It was while teaching at Sop's Arm that Edwin met and married Ester Ricks. And it was there that he became a lay reader for the Anglican Church, a service he would continue to practice for 40 years.
In June of 1955, Moore was confirmed as the Principal of the all-grade school at Eastport (now the Beaches Heritage Center). A position he held until the new Integrated Elementary school was opened in the early 1970's, and he assumed the Vice-Principal of that modern institution.
He was instrumental in the early success of the Integrated system and the transition to a new era in education. Moore retired from teaching in 1977 after more than 35 years. There is no one who has shared the educational experience with him who will forget him. And few who have not been influenced by his passion for learning.
But Moore's talents were not limited to teaching. For over twenty consecutive years he served as parish treasurer, and was disguised as an Honorary member of the Royal Canadian Legion for his years of bookkeeping services with that organization. Prior to Integration, he served as treasurer/secretary of the Local School Board for four years.
Moore's secretarial skills were equally amazing. He served as secretary to the Eastport Consumers Co-Operative, the Anglican Select Vestry, the Lions Club, the Loyal Orange Association and the Black Preceptory.
Mr. Moore's leadership abilities were always evident. He served as superintendent of the Sunday School for 30 years. president of the Eastport Consumers Co-Operative (8 Yrs), Master of the Society of United Fishermen Brighton Lodge #51 (2 terms), Worshipful Preceptor of the
Black Preceptory (two terms) and president of Newfoundland Teachers local.
Moore was elected Mayor of the Town of Eastport in 1988 and served until November 1993 when illness forced him to resign. He died April 17, 1994.
SOURCES (not already listed): Norma Plowman; Biographical clippings Perry Moore; Emails and Pictures Mac Bradley; Interviewed April 20, 1994 Cencus, 1935 – Dildo, Trinity Bay